What is a CRM? The acronym stands for "Customer Relationship Management". A tool that helps you manage and build better customer relationships.
At the same time, it helps you align your sales, marketing, and service teams.
Well at least in theory. Today businesses forget about the key word in CRM which is "relationship".
Overly focused on mass communicating or doing sales outreach on autopilot. Instead of focusing on customers' wants and needs.
But listening to your buyer requires more than just a phone set.
What are some of the benefits of using HubSpot CRM?
Understanding your customer depends on how well your company organises its sales, marketing and customer service processes.
It also means, capturing important moments along the buyer's journey in order to improve overall customer satisfaction.
So how can HubSpot CRM help you grow your company's revenue?
1. All in one easy-to-use, powerful platform
HubSpot CRM software is a full suite platform encompassing sales, marketing, service and now CMS tools.
Which means when you purchase HubSpot, you'll have the opportunity to unify all your internal processes in one place.
This is a huge benefit as multiple teams will have insight into important aspects of your customer's interactions with your business.
2. HubSpot CRM is completely free
Yes that's right. Whether you're a small business just starting off or an organisation looking to test out a new CRM software, HubSpot CRM will allow everyone on your team to use HubSpot CRM 100% free.
You'll get access to features like the reporting dashboard, company insights, deal tracking as well as pipeline management.
In addition all your sales reps' calls, emails, meetings and notes are tracked automatically in the HubSpot CRM.
Your salespeople won't need spreadsheets or waste time on menial tasks as there is no need for manual data entry.
Even though these features are limited on the free version, it does give even the smallest sales team contact management options that have never been easier.
3. Your teams will no longer be siloed
HubSpot gives you the option to purchase tools for marketing, sales, customer service, web content management, and operations.
When your teams are aligned and there is full visibility on internal processes, your organisation can focus on more important goals like driving revenue and retaining customers.
Ideally, you want your internal teams to work together to support your customer through the buyer's journey in a seamless way.
4. You'll have a happier sales team

When your marketing, sales and service teams are aligned and working towards a common goal, you will have less friction between your teams.
The reason why friction exists in the first place is misalignment and process inefficiencies. Which in turn leads to a negative experience for your customers.
A better customer experience means happier customers. And happier customers means more sales. It's a win win.
And the majority of salespeople would rather be selling to buyers who have a positive association with your business rather than to someone who's never even heard of your company.
5. Powerful sales engagement tools
Many sales outreach tools offer similar functions to that of HubSpot, however they typically require an additional integration with your CRM for your leadership team to evaluate sales productivity.
HubSpot allows you to automate manual sales tasks like sending follow-up emails or scheduling meetings with prospects right from HubSpot's Sales Hub.
Additionally, your sales reps will have insights into interactions prospects had with your business, allowing you to further personalise and tailor your outreach.
By adding specific details to each of your messages when connecting with prospects, you make the sales process more human.
6. Smart marketing automation
HubSpot marketing automation is so much more than just sending automated emails.
HubSpot automation tools allow you to attract the right audience through blogging, SEO, paid media, social media management, live chat and more.
Once your business has gained the attention of your ideal buyer persona, HubSpot then helps you convert those visitors into customers.
Additionally HubSpot provides built-in analytics, reports and dashboards which are all backed by data.
With the help of HubSpot's automation workflows, your marketing team will save time and scale your organisation's sales efforts.
Generating tons of marketing qualified leads for your sales reps.
7. Autonomy to create content
As a marketer you can own the entire content marketing process in HubSpot Marketing Hub without being constrained.
This means that you can also create personalised web experiences and interactions with customers at scale. Ensuring your sales teams are getting better quality leads.
At the same time, using insights on customer touch points allows you to create an overall better experience along the customer journey.
Sales reps in turn can create countless email templates and sequences, producing a content driven database.
This allows your teams to build a repeatable process based on best performing content.
8. Huge amount of integrations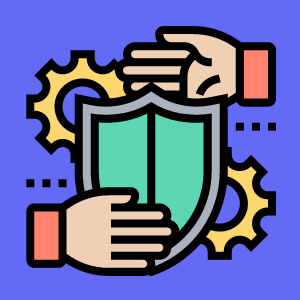 HubSpot has over 500 applications that natively integrate with their sales, marketing and service hubs.
These seamless integrations allow your business to continue using vital tools and various services all in one central place.
Including integrating marketing apps like MailChimp or social media accounts and sales apps like Linkedin Sales Navigator or Pandadoc for signing contracts.
And if the integration doesn't exist, chances are HubSpot will try to build it for you if it's possible.
9. Built in learning academy
Not only is HubSpot an easy to use platform, you'll find that it's also easy to onboard new and existing employees.
HubSpot offers dozens of free online training courses and certifications for inbound marketing, sales, and customer service professionals.
With a vast amount of relevant business topics at your disposal, these courses can be taken at your own pace without limit.
10. HubSpot Agency Partner implementation

If you're still not convinced and perhaps need a bit of help migrating your existing CRM to HubSpot, a Certified HubSpot Agency Partner can help you.
By tapping into an Agency Partner's specific skills, your company can maximise on everything HubSpot has to offer with ongoing support from a HubSpot Partner.
As a HubSpot Partner, we work together with HubSpot so you'll never be alone throughout your onboarding process and beyond.
In Conclusion
As you can see, there are many advantages of using the HubSpot CRM. People do not want to be "marketed" to or "sold" to. They want real human interactions every moment they interact with your business. HubSpot can provide you with the powerful tools to do just that. Elevating your customer experience and ultimately driving more revenue for your business.